GET 50% OFF AND FREE US SHIPPING
BRING OUT A YOUNGER YOU
Clinically proven to help reduce wrinkles, improve skin firmness, and elasticity.
One Truth 818 Anti-aging Serum
The face of anti-aging has changed forever. One Truth 818 Serum contains an active ingredient called TAM-818, the strongest of nearly 300,000 compounds tested over 11 years by award-winning Telomere Biologist Dr. Bill Andrews and his team at Sierra Sciences.
Clinical trials at Abich Labs in Italy show that after 30 days One Truth 818 decreased wrinkles by 14.04%, improved skin firmness by 20.33% and elasticity by 8.33%.
Tried. Tested. The Truth is Out!
Free Shipping On Orders Over $99.00
60 Day Risk-Free Guarantee
I have been using one truth 818 serum for a little over two years.

Within a few days I could see a difference

and within 2 weeks my skin was showing

significant signs of reversed aging

.
Kimmie from Reno, NV
Seeing Is Believing
If a picture is worth a thousand words, what do these videos say about the effects our products have on those who use them.
One Truth 818
Anti-aging Serum
Made Only From the Finest Materials
Siorai's team of biologists and formulators are continually looking for active ingredients that have specific constituents we have found to give your body the necessary tools needed to function at its optimum level. Our products are built with this fundamental thought process. As a result, Siorai's products work to repair your body, not mask the symptoms.
TAM-818 is the world's strongest telomerase inducer ever created and One Truth is the only skincare range in the world to contain this ingredient.
Scientific studies have shown the instrumental connection between short telomeres and cellular aging. Dr Bill Andrews will tell you that Telomere shortening is the ageing process on a cellular level. Telomere length represents the biological clock of age as opposed to our chronological age.
One Truth 818 contains 50ml of serum, lasting approx 8 – 10 weeks.
Water
Jojoba Esters
Macadamia integrifolia Seed Oil
Ethyl Macadamiate
Isoamyl Laurate
Sodium Acrylates Copolymer
Glycerin
TAM 818
Helianthus Annuus (Sunflower) Seed Oil
Caprylhydroxamic acid
Glyceryl Caprylate
Hydrogenated Polyisobutene
Lecithin
Phospholipids
Polyglyceryl-6 Caprylate
Polyglyceryl-10 Stearate
Propanediol
Tocopherol
Isopropyl Myristate
Citric Acid
Potassium Sorbate
Sodium Phytate
Fragrance (EcoCertified)
Limonene
Linalool
One Truth 818 Anti-aging Serum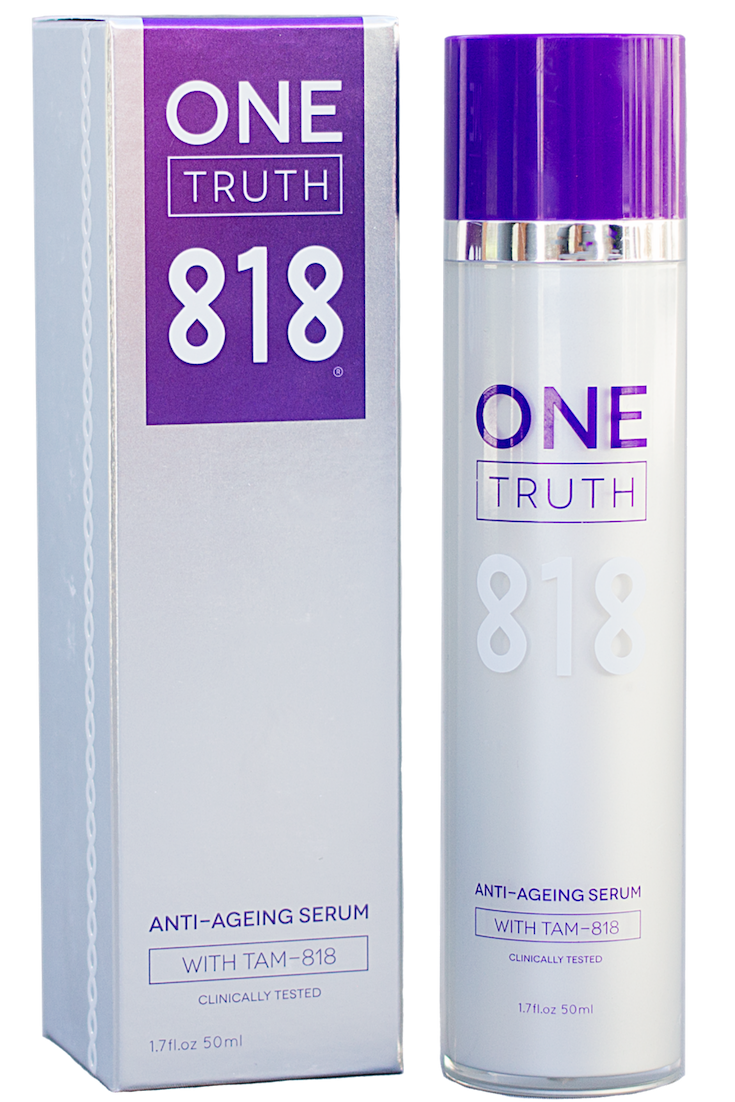 Free Shipping
On Orders Over $99.00
60 Day Risk-Free
Guarantee
Live Support
Call or Chat

In a nutshell, telomerase stops your cells from ageing and can reverse ageing. If your skin cells don't age or indeed get younger they will behave like younger skin. Younger skin produces collagen, elastin and has an abundance of hyaluronic acid. It doesn't wrinkle with usage, isn't prone to pigmentation or 'age spots' and has a much more even tone than aged skin.
Our Contacts
250 N. Baltic Pl., Suite A
Meridian, ID 83642
Phone: 1 833-270-0787
Email:
support@siorai.com